We understand – Leak detection needs to be dealt with FAST! iFind Pipes 'N' Cables can locate and fix your leak ASAP to avoid further damage and save you money.
iFind Pipes 'N' Cables – Acoustic Leak Detection
0419 612 476
Servicing Darwin, Alice Springs, Katherine, Tennant Creek, and Surrounding Areas
Leak Detection Services in Darwin, Northern Territory
iFind Pipes 'N' Cables – We can find it!
Leaks in domestic, commercial or industrial pipe work can cost tens of thousands of dollars per year. If you suspect you have a leak due to a high water bill or unexplained moisture around your premises, don't wait for the damage to be done or the excessive bill to arrive.
Using state of the art acoustic equipment, our highly experienced technician can perform a survey of your premises to identify any underground leak before undertaking any works. Our technician has pipe line construction experience and understands the methodology in pipe line installation. This experience allows us to assist with leaks on existing pipe lines and newly installed pipe lines that will not pass a pressure test.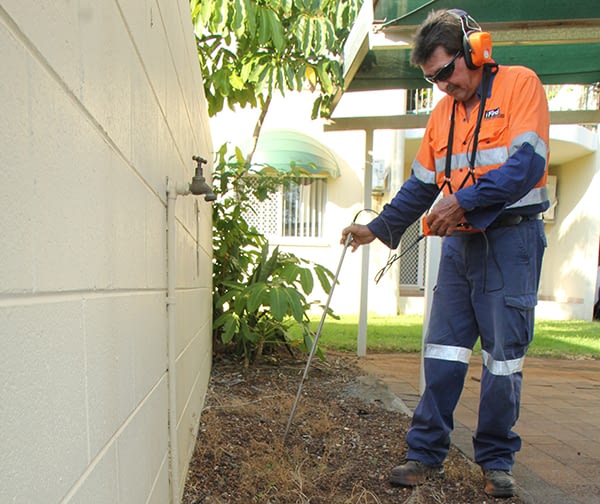 We Provide Leak Detection Services For:
Homes and Apartments
We can find hidden underground water leaks under the ground, in gardens, under concrete driveways or under slabs.
Businesses
Leaks around taps, pools, water tanks or any commercial location.
Water Utility Companies
Our acoustic leak detection is a non-intrusive method of 'listening' for leak sounds in underground pipes when there is no obvious visual leak.
All Residential and Commercial Properties
We're able to service any residental or commercial property regardless of how remote they might be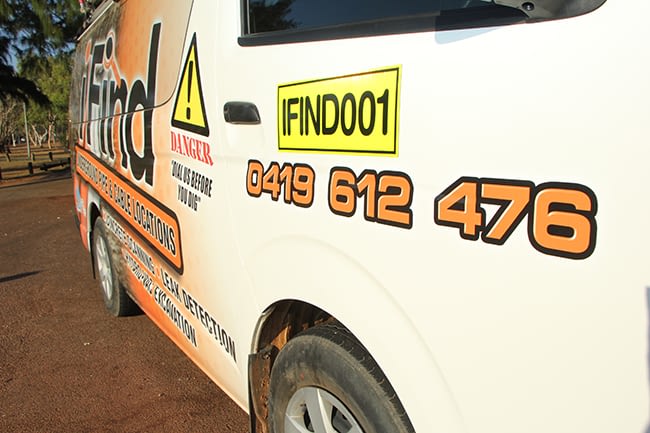 100% Satisfaction Guaranteed
Has your water bill been larger then it should be? It is common to have a small leak that can damage your property and cost your business. Making the correct assessment can be paramount in reducing the damage being caused from undetected leaks. iFind Pipes N Cables uses the very best equipment available to ensure the leak is detected as quick and cost effective as possible.
We service the entire Northern Territory to find all sorts of leaks; under concrete, under pavers or any location that is difficult to access. We are fully licenced and hold the latest accreditations.
To accurately detect a leak without tearing the area apart, you need well trained staff and the right tools and equipment to get the job done. When using iFind Pipes N Cables you can rest easy knowing:
We address and resolve all leak detection concerns

We hold the latest accreditation's to ensure we get the job done correctly

We have highly experienced staff
iFind Pipe's 'N' Cables experienced leak detection experts are proud to service Darwin, Katherine, Alice Springs, Tennant Creek and all surrounding areas. Contact us today on 0419 612 476
Why choose iFind Pipes 'N' Cables

Highly specialised
We have all the most important accreditation's and certifications needed to get the job done right.

Local
We are a proud owned and operated Darwin company.

Experience 
We are experts at what we do. 100% success rate and job satisfaction guarenteed.

One Stop Shop
We offer a wide range of underground service location services. No need to hire multiple contractors.
Northern Territories Best Leak Detection
RESIDENTIAL LEAK DETECTION YOU CAN RELY ON
iFind Pipes 'N' Cables services homeowners and other property owners save money and protect their investments. Leaks can sometimes be very tricky to locate and fix, however, we have the expertise and experience to troubleshoot any problem that may arise. We only use technology that will mitigate the effects on the surrounding area in order to minimise the costs associated with leak detection. 
Older property as well as new properties can have leak problems. Corrosion, irregular cleaning, poor construction or ground movement can cause unexpected pipe damage which results in leakage. 
Our Residential Water Leak Detection Services Include:
Locate the source of unexplained moisture

Locate leaks around fire mains

Pipeline correlation and date logging

Save residential homeowners time and money by locating hidden water leaks

Finding water leaks under slabs, driveways, or behind retaining walls

Irrigation, water, storm water, sewer and septic line location
Leak Detection without Damage
Acoustic leak detection gives us the ability to be very precise. As a result, we can pinpoint the leak and only excavate what is 100% needed to get the job done. We would prefer to leave your walls, floors and surrounding infrastructure intact so you can keep doing what you're doing.
Our trained staff always endeavor to provide the very best in customer care. Call us today and we will be able to provide a thorough consultation to determine our best estimate for the job.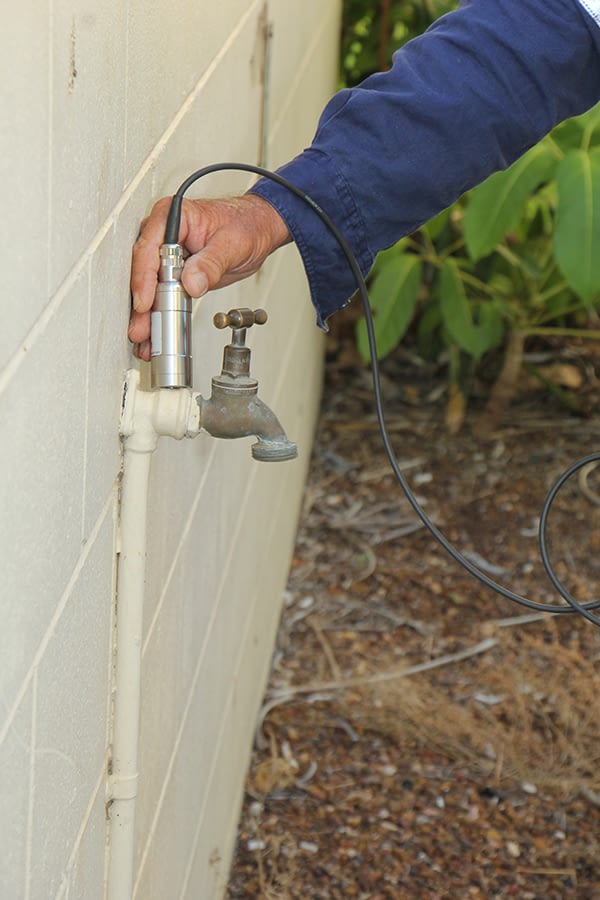 Did You know?
Even the smallest leaks can be significant
Leak Size
Liters Per
Diameter (mm)
Min
Hour
Day

0.5

0.33

19.8

475.2

1.5

1.82

109.2

2620.8

3

8.15

489

11,769

5

22.3

1338

32,112

7

39.3

2358

56,592
Australia's Biggest Companies Choose iFind Pipes 'N' Cables for all Leak Detection Needs
We work with the some of Australia's biggest and most trusted companies. Call us today to find out why we are their number one choice for all leak detection matters