Underground service location
Underground
service
location
We can find it! iFind Pipes 'N' Cables uses the latest methods and technology to safely locate any subsurface object or underground utility
iFind Pipes 'N' Cables – Underground Service Locations
0419 612 476
Servicing Darwin, Winnellie, Katherine, Tennant Creek, and Surrounding Areas
Underground Service Locations in Darwin, Northern Territory
iFind Pipes 'N' Cables – We can find it!
We use the latest methods and technology including; Ground Penetrating Radars (GPR) and electromagnetic field (EMF) wand devices, to safely and accurately locate any subsurface object or underground utilities on your site before you dig, excavate or drill.
Our Services can assist with all your underground locating needs including:
Optic fibre

Sewer & stormwater pipes

Copper cable telephone lines

Electrical cables

Air-conditioning pipes and ducts

Coaxial cables

Control cables

Empty conduits

Fuel lines

Gas lines

Oil lines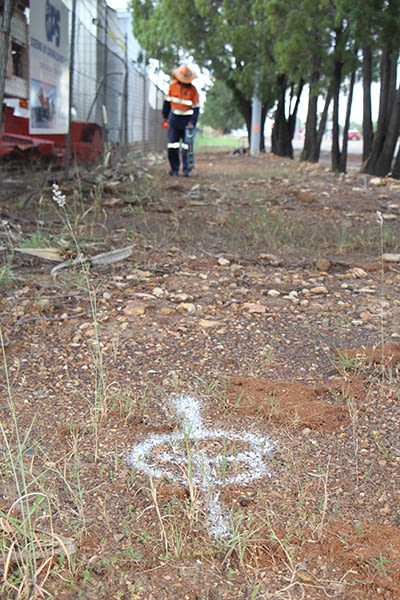 iFind Pipe's 'N' Cables experienced leak detection experts are proud to service Darwin, Katherine, Alice Springs, Tennant Creek and all surrounding areas. Contact us today on 0419 612 476
Why choose iFind Pipes 'N' Cables

Highly specialised
We have all the most important accreditation's and certifications needed to get the job done right.

Local
We are a proud owned and operated Darwin company.

Experience 
We are experts at what we do. 100% success rate and job satisfaction guarenteed.

One Stop Shop
We offer a wide range of underground service location services. No need to hire multiple contractors.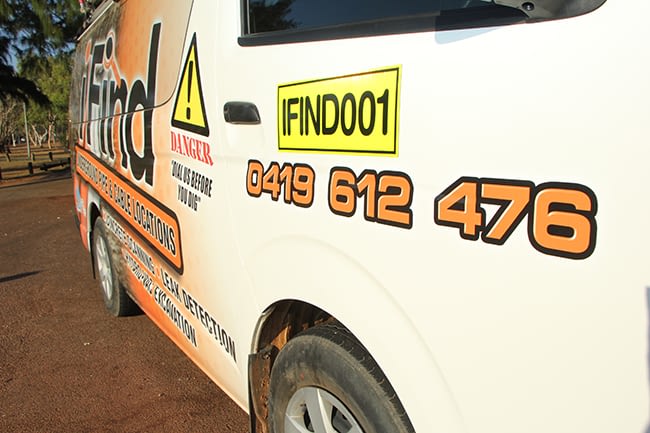 Ground Penetrating Radar | Darwin
Ground-penetrating radar (GPR) is a geophysical method that uses radar pulses to image the subsurface. This non-destructive method uses electromagnetic radiation in the microwave band (UHF/VHF frequencies) of the radio spectrum and detects the reflected signals from subsurface structures.
GPR uses high-frequency (usually polarized) radio waves, usually in the range 10 MHz to 2.6 GHz. A GPR transmitter and antenna emits electromagnetic energy into the ground. When the energy encounters a buried object or a boundary between materials having different permittivities, it may be reflected or refracted or scattered back to the surface.
Ground Penetrating Radar is highly effective at locating sub-surface material types. Metallic objects, plastics, concrete, ceramics, asphalt composites plus many more can all be located using this method. The system is fully configurable for different soil types – enabling maximum performance. Applications include;
Utility Pipes and sewers

Power cables

Telecoms cables

Buried Tanks

Buried Ordnance

Voids
Ground Penetrating Radar is highly effective at locating sub-surface material types. Metallic objects, plastics, concrete, ceramics, asphalt composites plus many more can all be located using this method. The system is fully configurable for different soil types – enabling maximum performance. Applications include;
Electronic Wand Detection | Northern, Territory
Our EWD can assist with all your underground locating needs including:
PVC and Poly pipes

Concrete pipes

Sewer pipes

Storm water pipes

Tree root examination

Void detection and location

Road or Rail bed investigations

Underground Storage Tank location

Landfill mapping

Metallic pipes
Australia's Biggest Construction Companies Choose iFind Pipes 'N' Cables for all Their Underground Service Locations
We work with the some of Australia's biggest and most trusted companies. Call us today to find out why we are their number one choice for all leak detection matters